One of the best weeks of the year for us techies in Windsor-Essex – Tech Week! Organized by WEtech Alliance, Tech Week brings together tech employers, professionals, students, educators, and just plain tech geeks to network, learn, and celebrate tech in our community.
Our team attended 5 of the events, and we learned a little something at each. Here are the highlights and key takeaways from our favourite 3 events!
Tech Enabled
This was the first event of the week that we attended, and we're happy we did! With keynote speaker Casey Lynn from Google sharing her marketing expertise and two panels with an impressive line-up of local industry professionals sharing wisdom on tech trends and tech tools, there was something to learn for everyone.
Our key takeaway came from Casey, when she pointed out customers today are "curious, demanding, and impatient". This is something we've come to realize and took into account when building our new website. Our website now says more with fewer words and helps potential customers get connected with us as quickly as possible, through whichever channel they like best.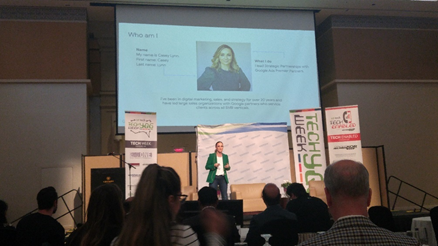 Casey Lynn, Strategic Partnerships at Google, delivered a great presentation!
TechConnect
Getting connected with the tech community in Windsor-Essex is SO valuable! Hosted at the Ezy Mode eSports lounge, this event saw employers, students, professionals, and community members come together to hang out, play some games, and chat tech. We saw many familiar faces, and it was great to be able to offer some advice to student attendees, our future workforce!
Our key takeaway was seeing how enthusiastic students in YQG are! We chatted with multiple students from St. Clair College and the University of Windsor, all looking for ways to get involved with the tech community, whether by volunteering, participating in experiential learning, or just attending more events! While we offer opportunities for Co-op at DataRealm, we'll be looking to reach out to students in even more ways in the future.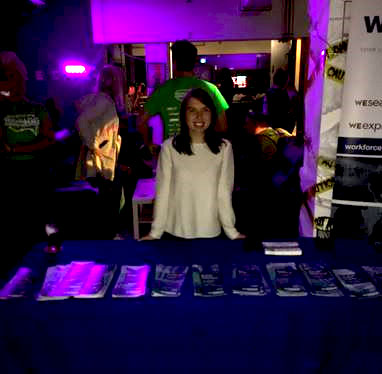 Katie, our Talent and Digital Marketing Strategist, at TechConnect
Tech Women: Moving the Dial in Tech and Beyond
Diversity in tech. It's something we talk about all the time, but the message delivered by keynote speaker Claudette McGowan, CIO at BMO Financial Group, was extremely empowering. At DataRealm, we strive for diversity, but we only have a few female employees. This is something we highlighted in our "Saying No to the Status Quo" article for BizX magazine in March 2019. We're working on the diversity in our workplace, and it was fantastic to hear Claudette reinforce what we've been thinking!
Our key takeaway from Claudette wasn't singular. There were so many key takeaways! Women in tech are affected by more than just sexism – they may experience racism, ageism, sexual orientation discrimination, and other forms of prejudice in the workplace. It's important to take into account all of these factors when thinking about diversity in tech – not just the gender issue. Another key takeaway was celebrating our male allies and making sure we recognize that there are many of them! Claudette pointed out that while there are of course male bad apples in the tech workforce, there are also so many men that want to build women up and offer their support. It's important to recognize the male champions in the tech community as well – to tackle diversity, we need all parties involved, and we need men to know that their support as an ally is welcome and valuable.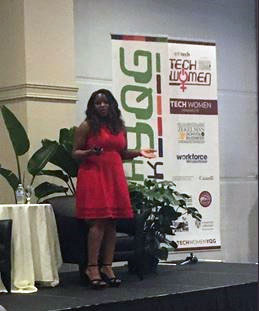 Claudette McGowan speaks at the Moving the Dial event
We can't wait to see what Tech Week brings next year! Thanks again to WEtech Alliance for organizing this great week in Windsor-Essex!